-

Introduction
" I'm neither extreme, nor fanatic simply free"
..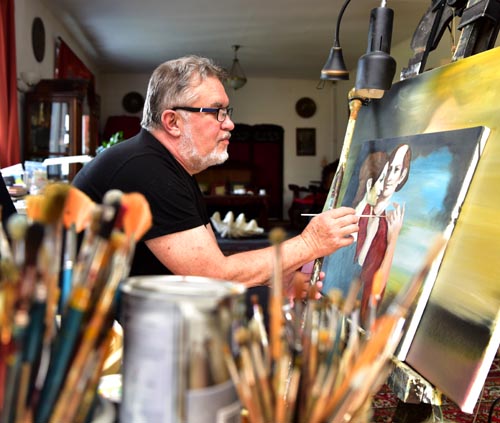 Miklós Kolozsvári Grandpierre was born in 1950. By the age of 14 he is already engaged in learning artistic anatomy and different artistic techniques. In 1975 he becomes a member of the Studio of Young Artists (Fiatal Művészetek Stúdiója). In the year 1980 he gains admittance to the Community of Copper Engravers (Rézkarcoló Művészek alkotóközössége) with the support of such noted artists as Gyula Hincz, János Kass and Ádám Würtz. He is a member of the Hungarian Artists Association since 1982.
He started exhibiting abroad in 1980, his last international exhibition took place in Vienna in 2014.
His art is inspired by surrealism, his topics are centered around human beings. The form of his characters, the inner human traits, the sharp and exact presentation of characteristics invites the viewer to enjoy his works without a necessity to depict age or boundaries. The choice of topics is merely limited by his inner judgement of values. A figural colourist painter with a favor for symbols. A graphical artist and engraver with an undepletable fairytale world.
His massive sculptures are carved from marble. On more than one occasion mythological stories unravel from his sculptures.
The crystal carvings are made into crystals or semiprecious stones. Their size can best be measured in millimeters. Only the silhouettes of the tiny shapes exist, their inside has been removed through a small hole. These are sculptures that exist only virtually, enclosed in the crystal.
It is a unique set of abilities: the hand, used to carving the heavy marble, yet travels lightly over the canvas and still so precise, that it would carve into crystals not bigger than a thumbnail.
B.K.
Fresh news and creations on my FB page »
More about me on Wikipedia »